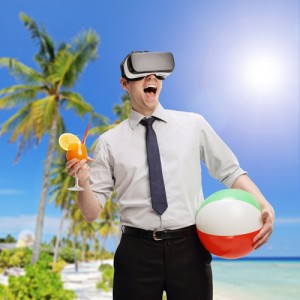 With digital advances such as virtual reality headsets, it's too soon to call the demise of the high street travel agent.
Strolling from the hotel reception to the poolside bar, the sun is shining and the views out to sea simply stunning. You can almost taste the sangria as you leave behind the bleak winter to sample what may lie ahead in a few months' tim
Using virtual reality headsets in this way to immerse customers in potential destinations is one of the digital tools being tested by travel agents as they look to provide an online dimension to an offline experienc
Brochures alone will not get customers through the doors, so by using virtual reality and video content there's an opportunity to bring to life all aspects of a trip away, including the hotels, destinations and flight experience.
Higher footfall
As the retailing landscape changes and VR headsets enter the mainstream, travel companies such as Thomas Cook and TUI have started to harness the technology so they can let their customers try before they fly.
Thomas Cook, for example, has just opened its most innovative shop to date at Westfield Stratford City, marking the first of 25 new Discovery outlets within higher footfall areas such as shopping centres over the next three years.
The need for travel stores to go beyond just clicks-and-mortar was highlighted at the recent World Travel Market (WTM) in London, where delegates took a tour of some of Peru's most iconic attractions, including Machu Picchu and the Inca Trail, via virtual reality technolog
"Physital" economy
At the WTM event, a report prepared by Euromonitor International found that online agents will soon have a bigger slice of the overall travel market, with offline expected to drop to 48.4% in 2020 from 53.8% in 2015.
It said that in order for agents to make the most of their service advantage they had to think in terms of merging their physical and digital presence to thrive in what is known as the "physital" economy.
Euromonitor's head of travel Caroline Bremner, said: "Travel agents who think that having a web site or app means they are meeting the needs of today's travellers are four years behind the times.
"Technology has moved on, and so has what their potential clients expect."