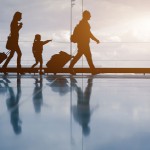 Insurance renewal notices issued from next April are to change as part of efforts to encourage customers to shop around for their cover. 
For many customers the only interaction they have with their insurer is when they pay their annual policy renewal.
Concerned by this lack of engagement, the consumer watchdog is introducing new rules that it hopes will re-energise the renewals process.
From next April, insurers will have to include details of the previous year's premium price in their renewals notice, as well as provide information encouraging customers to shop around for their insurance.
Customer loyalty
The initiative from the Financial Conduct Authority (FCA) comes amid complaints that some customers are not being rewarded for their loyalty, whereas new customers are enticed with better deals.
Insurers will also have to identify customers who have renewed with them four consecutive times. They will then have to give these customers an additional prescribed message encouraging them to consider other insurers.
The rules relate to all general insurance products, such as car, household and travel policies.
The FCA said: "We expect that our package of measures will prompt consumers to engage, shop around, and make better-informed decisions.
"The measures will also increase firms' focus on renewal practices, and, as a result, improve consumer outcomes."
Greatest impact
In 2014, the FCA launched a large scale randomised controlled trial with over 300,000 consumers to test reactions to different types of information provided at renewal and whether this prompted people to switch.
The inclusion of the previous year's premium on renewal notices had the greatest impact, prompting between 11% and 18% more people to either switch provider or negotiate a lower premium when prices sharply increase.
The regulator has also issued guidance on how firms can maintain records to demonstrate compliance, including keeping a record of premiums. It is also including 10-month policies as part of its initiative.