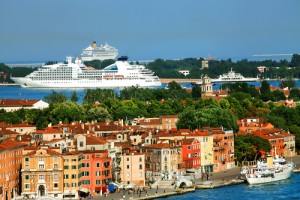 The world's largest cruise ship has made its maiden voyage, but is size everything? Will the next generation of ships be smaller?
Measuring a quarter of a mile in length, the newest member of Royal Caribbean's fleet, Harmony of the Seas, is home to 20 dining venues, 23 swimming pools and a 1,380-seat theatre.
If that's not enough, there's also an 82-foot long zip wire, three water slides and an imitation of New York's Central Park with 12,000 plants and trees.
The record-breaking liner is one foot longer than her two sister ships, Oasis of the Seas and Allure of the Seas, with whom Harmony of the Seas recently sailed alongside for a momentous photo opportunity near her home port in Florida.
Emissions focus
The three Oasis-class vessels, which can each hold up to 6,780 passengers and 2,100 crew, will be joined by a further ship scheduled for delivery in 2018.
Until now, size has been the driving force behind expansion in the cruise ship industry. However, Royal Caribbean recently signalled a change of tack when it unveiled plans for a new class of ships limited to about 5,000 passengers.
Project Icon is significant for the industry because the ships will be powered by liquefied natural gas and introduce the use of fuel cell technology.
Royal Caribbean said it was ushering in a new era of shipbuilding that will dramatically reduce greenhouse gas emissions as part of its ongoing drive to "take the smoke out of our smokestacks".
Port capacity
That will help address ongoing concerns about the environmental impact of the industry's super-size ships, particularly in sensitive locations such as Venice.
The way that giant ships dominate the skyline and disgorge vast numbers of tourists has long been an issue for residents in the Italian lagoon-side city.
Bigger ships also pose constraints for operators in terms of finding locations where there are berths long and unrestricted enough for them to visit.