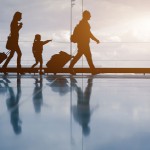 Nothing stands in the way of Britons and their summer holiday — not even Brexit-driven economic worries and a sharply lower pound.
Demand for overseas travel appears to be holding firm after a quarter (24%) of people said they planned to spend more on their holidays next year.
The figure, provided by travel association ABTA at its annual convention in Abu Dhabi, is broadly in line with last year when 23% planned to spend more.
This suggests that the optimism seen in the travel market over the last year has continued despite recent terrorism events and the Brexit upheaval in the UK.
City breaks
Confidence among ABTA members has been fuelled by a 10% rise in the number of people who took a holiday in the 12 months to August. The 86% of people holidaying at home or abroad is the largest slice of the population since 2011.
Millennials and baby boomers have driven the recent surge in demand for holidays overseas, with 25-34 year olds and 55-64 year olds being the most likely age groups to take more than four foreign holidays a year.
Elsewhere in ABTA's Holiday Habits Report, over half of all holidaymakers (52%) said they planned to take a city break next year, with 44% a beach holiday.
Holiday budgets
All-inclusive holidays are set to be a popular choice as households search for more certainty over their holiday budgets, particularly as they attempt to protect themselves from the drop in the value of the pound.
This is particularly the case for young families, with 35% of this group planning to go all-inclusive compared to 25% of all holidaymakers.
There are also signs that people are feeling bolder and more adventurous about their travel plans and keen to explore new places. This quest may be another Brexit factor as families look for locations unaffected by the sterling's euro squeeze.
Over a quarter of all holidaymakers (26%) say they are very likely to visit a country they've never been to before, compared to 18% who said this last year.