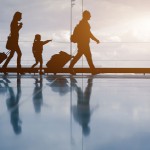 New guidelines aim to make air travel easier for people with 'hidden disabilities' such as dementia, autism and hearing loss.
With their loud announcements, busy spaces and necessary security checks, airports can be challenging and intimidating places for many people.
With this in mind, the Civil Aviation Authority (CAA) has become the first regulator in the world to issue guidance on how to meet the needs of passengers with hidden disabilities.
It has asked the UK's 30 largest airports to make the necessary improvements to their special assistance service, including by ensuring that all customer facing employees and security staff receive appropriate awareness training.
Airports should also provide quiet routes and areas, as well as offer passengers the option to wear lanyards or wristbands so that staff can identify and meet their needs without having to ask questions.
Reluctant travellers
Airports and airlines are already more accessible to people with a disability or reduced mobility, with the sight of staff pushing wheelchairs or driving buggies to help people move around the airport now commonplace.
In 2015, more than 254 million passengers passed through UK airports, of which 2.7 million were people with a disability or reduced mobility.
However, recent research by the CAA found that 23% of people said they had a condition that might affect their ability to travel by air, with 30% of these people defining this as non-physical.
This means there's 7% of all people potentially not wanting to travel because of a hidden disability, including mental health problems and visual impairment.
Ongoing monitoring
The CAA has worked with a number of disability charities and organisations to develop the new guidelines.
It will continue to monitor the quality of the assistance available and later this year plans to publish a report on what each individual airport has done to improve things for passengers. There are also plans to work closely with airlines and key charities on how to make aircraft more accessible.
Jeremy Hughes, chief executive of Alzheimer's Society, praised the initiative: "Sadly, we know that airports can be a daunting or frightening experience for many people affected by dementia — this can put people off travelling and in turn lead to them feeling socially isolated."