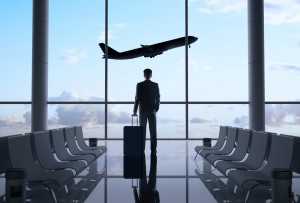 Demand for air travel is still growing, with new routes and falling fares contributing to a big rise in passenger traffic in 2016.
The International Air Transport Association (IATA) has reported a strong year for air travel after seeing a 6.3% jump in passenger traffic on a year earlier.
The trade association, which represents more than 250 airlines worldwide, said the addition of 700 new routes and a US$44 (£35.15) fall in average return fares helped to make air travel even more accessible in 2016.
At the UK's biggest airport, Heathrow welcomed a record 76 million passengers in 2016, as well as 1.5 million tonnes of cargo. The airport said larger, quieter and more efficient aircraft continued to be a driver of growth in passenger volumes.
Festive demand
December was a particularly strong month for air travel, with an 8.8% rise in demand reported by IATA and a 4.4% improvement seen at Heathrow, where the figure of 6.2 million passengers was a record for the month.
The growth over the festive period was part of an improved performance for European carriers in the second half of 2016. International traffic in Europe rose 4.8% in 2016, according to IATA, with passenger volumes up an average of 15% year-over-year since June.
Planes were also fuller in 2016, with the overall load factor reported by IATA up 0.1% to a record full-year average high of 80.5%. The figure in Europe remains the highest among all regions at 82.8%.
Growth outlook
With four billion passengers expected to fly globally this year, IATA said it was important that governments and industry worked together to deliver the infrastructure, taxation policies and regulation to accommodate growth.
IATA's director general Alexandre de Juniac, said: "If we can achieve that, there is plenty of potential for a safe, secure and sustainable aviation industry to create more jobs and increase prosperity."
He also called for action to defend the social and economic benefits of the aviation industry "from barriers to travel and protectionist agendas".