About ROCK Insurance Group
What we do, how we do it, and what makes us different and better, goes a long way to helping our customers, partners and audiences understand there is more to ROCK Insurance Group.
Introducing ROCK Insurance
ROCK Insurance Group is much more than an insurance intermediary. We've developed our own technology platform to power our multi-distribution, multi-brand approach. This allows us to offer services through direct, affinity, trade and affiliate distribution.
Ultimately, we make the right products easy to find for the people who are looking for them. So everyone gets what they want.
A number of reasons why our partners say they're better with us…
People, dedicated to insurance
Direct & Partner websites
Years Growing Affinity Partnerships
We are a Travel Insurance specialist, with a strong reputation for growing affinity partnerships & delivering excellent service. Our recent acquisition by the Staysure Group combines our knowledge & expertise, & provides ROCK with strong financial backing & enhanced marketing capability
At ROCK we challenge the conventional ways of providing insurance. But we're not into change for change's sake. We're always looking at new ways to offer new things that add greater value. So you can be sure we're always pragmatically working in your best interests.
Smart means listening too. We monitor the market and talk to our customers, clients and partners to ensure better planning, better products and better pricing.
Insurance markets are changing so rapidly today that insurers need to be able to act fast. Success lies in constant adaptation and innovation and often in thinking ahead of the market.
That's why, for us, our agility is another key point of difference. We have shown again and again that we can move faster to get new solutions in place for our partners. We can innovate new products for consumers and shift emphasis with real speed.
We have a very positive collective mindset at ROCK. We always aim high, believing there is a solution for everything. To us, problems are opportunities to find a better way.
This means that rather than say 'we can't do that', we prefer to ask ourselves 'how can we make that happen'. And then we do. It's what attracts so many progressive businesses to us.
ROCK Insurance is established
Rock launches its direct proposition with insurefor.com
ROCK acquires MRL Insurance, AIS & 24DrTravel
ROCK Commercial and Opera Underwriting are Launched
One of the first in the Market; ROCK launches our gadget proposition with gadgetbuddy.com
Over 5,000,000 customers insured, with 2,500 user on our platform and a turnover of >£20,000,000
Over 50 Staff and new Corporate Headquarters
ROCK Launches dedicated offshore software development and innovation office
ROCK Launches second Customer Administration and Contact Centre
New pricing and yielding solutions launched for airport, resort and country specific risk and margin levers
Rapid development of innovative online customer experience solutions in the wake of the Coronavirus pandemic
ROCK is acquired by The Staysure Group and continues to run as a standalone business specialising in  technology lead partnerships.
ROCK reports record sales following the anticipated return to travel.
Our Story
ROCK Insurance Group was founded in 2001 as a forward-looking insurance brokerage business. Our goal was simple: to provide the travel sector with smarter, more agile insurance affinity solutions.
That's what we've done. Today we are a multi-million pound business driven by state-of-the-art technology and a full understanding of the synergies of travel, insurance, product placement, customer journey, brand, distribution, technology and staff.
Our mission is to anticipate, meet and exceed our partner requirements, whether they be for traditional product lines, complimentary products or expansion into new markets.
ROCK operates within both Business to Business (B2B) and Business to Consumer (B2C) markets and our growth has been both organic and through acquisitions. In the last five years alone, we have acquired MRL Insurance, 24 Dr Travel and AIS Direct.
ROCK has also launched a range of specialist propositions. These include a comprehensive suite of Financial Failure insurance for tour operators, agents and others who provide travel products to end customers. Similarly, our CDW Excess Protection has become a mainstay of the sector.
We are proud of the achievements our unwavering commitment to innovation has made possible. You can be sure this will continue.
ROCK Insurance Group is driven by bright, committed and highly motivated people with shared values and ambitions.
Collaboration is the principle that guides us. Senior management consults regularly with team members on everything from routine matters to the bigger challenges. This is because we want everyone in our business making a positive difference.
Our approach works. We are a company that consistently delivers to our partners and customers across all our brands and offerings.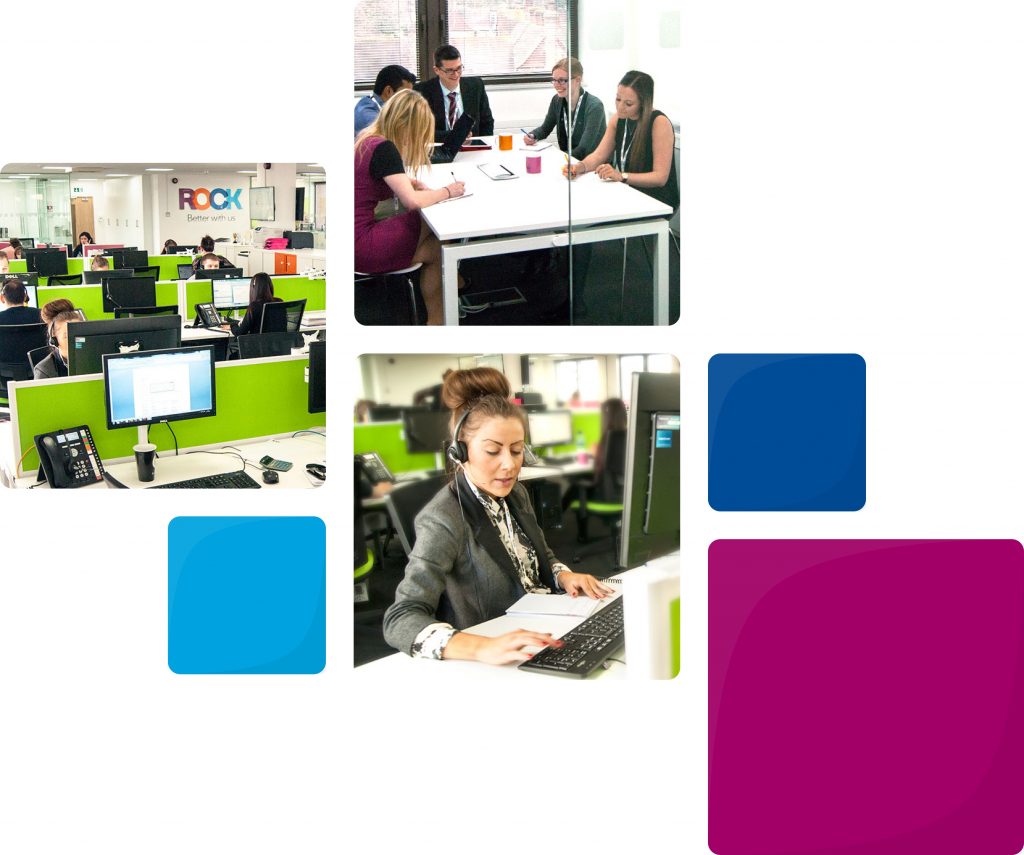 At ROCK, our culture, values and vision are what define us.
These core values reflect our entrepreneurial style and our determination to deliver successful solutions for our partners, customers and people.
Our culture is built around ambitious, smart and agile thinking people who are empowered to deliver and enjoy the process.
ROCK Insurance Group is committed to maintaining high standards of corporate governance and compliance. We aim to ensure we consistently do the right thing by our partners, customers, employees and other stakeholders alike. Our principles of openness, integrity and good process are important to us, as is our agile, entrepreneurial spirit. This unique combination has become fused into our culture of corporate responsibility and our method of governance.
…
Best Practice
ROCK maintains all appropriate forms of control to ensure that our operations run smoothly and efficiently. These include a business continuity plan, risk register, training and competency schemes, Treating Customers Fairly strategy, management information and performance management processes. These controls are contained within ROCK's compliance framework and compliance monitoring manual. You can click here  to view our Complaints Publication Report
…
Business Conduct
ROCK consistently requires the highest possible standards of professional and ethical conduct of itself and all employees. Each brand and business within the group operates with policies and minimum standard
Business Behaviour and Practice
We are committed to engaging in open, professional and ethical conduct and maintaining effective procedures to prevent confidential information being misused.
Corporate and Social Responsibilities
We take our corporate and social responsibilities seriously. Our new corporate brand has helped us consider what's important to us and the impact we have on society as a whole. We focus on the way we conduct ourselves in business, how we impact upon the environment and energy, the contribution we make to our community and our employee experience. We recognise our responsibilities in all these areas.
Relationship with our Regulators
We believe that only through an open and positive relationship with our regulators will we create mutual trust, respect and understanding. We will always abide by the rules and laws they set down for us and we also commit to their underlying principles.
Communities and the Environment
We are committed to contributing to the social and economic well-being of our community. We also encourage employees to participate in projects and initiatives to strengthen the community and our causes.
A key part of our commitment is an anti-bribery and corruption policy. This operates across all of our business interactions with customers, partners and suppliers. It ensures that the highest levels of trust and integrity operate across all aspects of our business.